Finishing Palletizer
Behind finishing lines, the Finishing Palletizer automates palletizing process for finished products in bundles like copies, brochures, books…
Its single gripper makes it high versatile, It can be deployed in other fields like packaging to handle plane-parallel products.
Automated palletizer for various products in bundle such as folds, brochures or books, or boxes…
Type of products accepted:
Printing industry: loose, strapped and wrapped bundles.
Other products : cardboard boxes, all plane-parallel products…
Location:
Printing industry: behind finishing operations, a compensating stacker, a strapping/wrapping unit …
Other industries: behind a packaging machine…
Two modules made up equipment:Preparation and transfer line before palletizing process:
Orientation module (rotation 0-90° – 180°).
Bundles storage in a buffer area to pre-form the rows.
Bundle loading table.
Palletizing module :
Single palletizing gripper for all production.
Pallet base, enclosing guards with grids.
Sheet/interleaf feeder and automatic dispenser.
Adjustment of the equipment:
No mechanical adjustment, all automated.
Operation diagnostic with clear and illustrated displays.
Palletizing software: easy to use, several configuration levels according to operator' skills.
Palletizing on standard and specific pallet formats.
CE certifications.
> More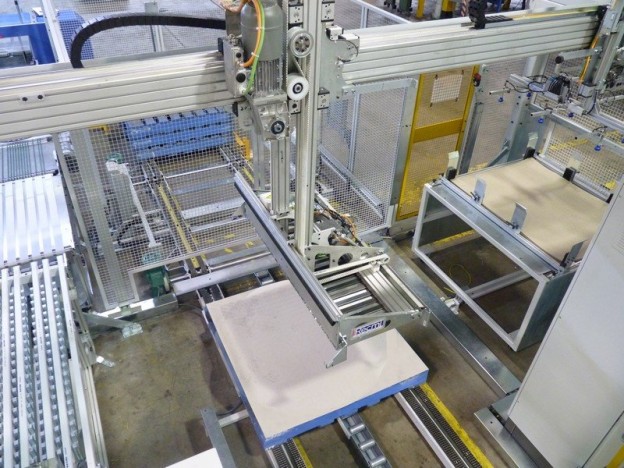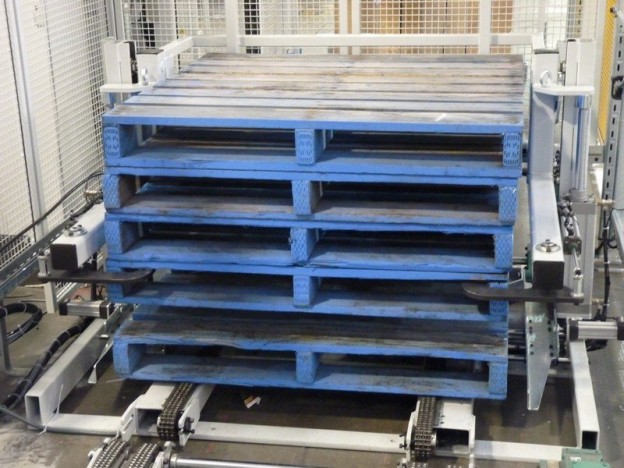 Automated pallets conveying system (option)
Pallets feeder:
Empty pallets magazine (column of 10 pallets).
Second empty pallets magazine (10 pallets more).
Pallets dispenser:
Transfer of empty pallets to the palletizing position.
Pallets conveying line:
Automatic ejection of the full pallet.
> More
Maybe you are looking for one of these machines ?